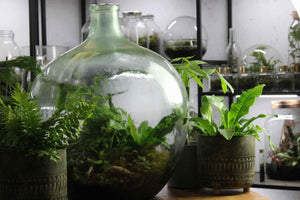 Shop, Make & Discover Terrariums
★ 2500 + 5 star reviews ★
What Is a Terrarium?
1 | Terrariums are a meld of art, nature and science.
2 | They are closed, self-sustaining ecosystems made using a system of layers.
3 | Water, oxygen, CO2 and nutrients are all cycled, creating a low-maintenance environment.
Make Your own
Kits and Supplies
Plants, moss, tools and more; Everything you need to make your own terrariums.
shop now
OUR FULL RANGE
See What's in Store
Many of our best creations are just too delicate to ship. Pop into the shop to see our full range.
VISIT
founder
Hi there, I'm Joe!
Creating a terrarium is a way of celebrating and encapsulating the beautiful variety this earth has to offer.
The times in which we live make it ever more important to understand, appreciate, and cherish the natural world.
I started ome with the intention to make terrariums more accessible - and bring nature into everyone's home.
So, if you need any help - just let me know.
MAKE YOUR OWN
Terrarium Workshops
In our terrarium workshops, you will learn the fundamentals of terrarium craft, and take home your very own self-sustaining ecosystem.